If you own your home, then you have many responsibilities that you must take care of, to ensure it is functioning properly. In some cases, renters are responsible for many of the appliances, including those in the kitchen. You may fall into either of those categories or even be the manager of a rental piece of property that makes you the person in charge of finding technicians to handle the repair processes to keep the land and buildings up to code and the standards of the owner. No matter the case, it is likely that at some point you are going to find yourself in need of refrigerator repair services.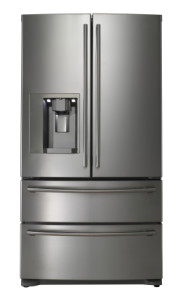 It is important that you do not delay having maintenance and repair services done on the appliances regularly. By addressing problems as soon as signs arise, you can avoid the cascading effect that can sometimes happen when part of an appliance begins to malfunction. On the flip side, you may find yourself thinking that it would be easier to throw away your unit and buy a new one. Unless it is very old or has suffered severe wear and tear, you can likely have it repaired for a fraction of the cost of purchasing a new one, allowing you to use those funds toward some other project.
If the seal is not working properly between the doors and the box itself, call an appliance service company immediately. The food you have in the fridge or freezer will not stay at the proper temperatures if the seal is not complete. This puts you and your family at risk for bacterial overgrowth in the contents. Additionally, you will notice an increase in your electricity bill as the unit struggles to keep the inside cold while the cool air continually leaks out through the unsealed area or areas.
Other problems that are common include things like:
A malfunctioning ice maker that is not making ice
Excessive noise coming from the fridge
Leaking water on the floor
Not turning on
Water dispenser not working
The Freezer is too warm
Freezer or Fridge is too cold
The unit is running too long
The light is not turning on even though the door is open
The door is sweating
Even if you have an idea of why the refrigeration appliance has begun to make the strange sounds, you should never attempt to undertake these repairs on your own. You risk electrocution and voiding your warranty.
No matter what symptoms your refrigerator is exhibiting, calling a professional repairman to make a diagnosis is always a good idea. This way, you can be sure that you will quit wasting electricity and risking fire or other negative repercussions.
Our service area includes these Orange County Cities:
Oakland, Azalea Park, Killarney, Zellwood, Meadow Woods, Southchase, Orlovista, Clarcona, Edgewood, Oak Ridge, Wedgefield, Conway, Tildenville, Apopka, Lake Buena Vista, Fairview Shores, Pine Castle, Pine Hills, Hunters Creek, Windermere, Alafaya, Winter Park, Lake Hart, Ocoee, Williamsburg, Orlando, Paradise Heights, Christmas, Maitland, South Apopka, Lockhart, Lake Butler, Lake Mary Jane, Belle Isle, Winter Garden, Gotha, Bithlo, Eatonville, Union Park, University Park, Holden Heights, Championsgate, Horizon West, Sky Lake, Doctor Phillips, Tangelo Park, Taft, Tangerine, Bay Hill